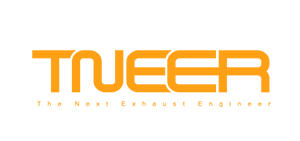 THE NEXT EXHAUST ENGINEER(TNEER)
Dita Racing started distributing TNEER in year 2020. This partnership started from Dita Racing's visit to TNEER's booth in AMPA Taiwan Car Show 2019, understanding the strengths of TNEER and subsequently seeing the potential of TNEER as an upcoming quality exhaust brand from Taiwan.
TNEER stands for The Next Exhaust EngineeR, the brand of a Mega Exhaust Factory in Taiwan established 40 years ago. TNEER's mega factory is one of Taiwan's largest OEM exhaust parts manufacturer and exports the parts all over the world. TNEER's exhaust design and manufacturing is 100% in-house and Made in Taiwan. TNEER pursuits excellent quality and design with its' Sports Series Exhaust System. It overcomes the space-limit of the car by bending high-quality stainless steel pipes with a high-tech robotic pipe-bending machine instead of multi-welding. With this technology, these stainless steel pipes are compatible with the performance of the care and show excellent quality no matter in any kinds of environments such as snowing ground, dessert even on Circuit and cross-country race with its' durability and corrosion resistance ability. TNEER's research and development team also built TNEER's own Mobile Application to control the valves mode of the exhaust. Another focus of TNEER is to product attractive designed carbon tailpipes as TNEER put high priority in the product visual.
Being a mega factory, TNEER has the biggest exhaust inventory and models available. TNEER focus on mid range sports car models with very affordable prices and excellent quality. If you own Continental sports cars like BMW, Mercedes, Mini, Jaguar, Lotus, Audi or Japanese sports car like Nissan, Honda or Toyota etc., most likely TNEER has the exhaust system for you. Speak to our friendly staff to check your car exhaust availability now!
For more information, do visit TNEER's official website to see its range of car exhaust systems.